Here's a little about me and my story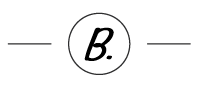 I founded boutique agency B.right Brains Co. to help our clients advance their vision, leverage their network and bring their goals to another level in a pragmatic and collaborative way, with integrity and transparency.
A strong believer of growing a business while living our best lives, I make sure that we all have a fantastic time doing so!
I consult, talk and coach on topics related to customer propositions development, brand growth, leadership motivation, marketing and business expansion through #SmartCollaboration in knowledge-based organizations.
"I'm all about making lasting contributions, introducing people, creating opportunities and genuine collaborative work."
There are two versions to my story. The short form one, and the long "let's have a chat around the fire"-type form one.
Got 24 seconds?  Before founding B.right Brains Co., I practiced as a lawyer (international trade and project finance) at top tier international firms in Canada, the UK, South Africa, the UAE and France. I then pivoted to business development and strategy within global law firms with a focus on cross-border revenue growth, global brand building, integrated innovation, strategic partnerships, talent retention, portfolio management, cross-functional and cross-cultural leadership.
In parallel, my love for aligned living and interest in disruptive wellness brands led me to co-found Botanica Natural Products and Timola, two companies based in the heart of South Africa that focus on sustainable organic plant extracts and natural active ingredients for cosmetics and food use.
Got a bit more time on your hands?  Well, then this is how I went from overworked corner-office lawyer to helping entrepreneurs set up and expand an aligned business they love (and that works for their lives).
Before there was a thriving solopreneur business. Before the hundreds of hours of coaching services to entrepreneurs. Before the online courses. Before the international podcast. Before the book …there was an overtired, overworked, overwhelmed corporate lawyer.
Awaiting for recognition.
Scared of failure.
And of creating a business of her own.
Along with my team, I bring my transversal expertise and wide range of contacts to assist you
whether a global law firm or a niche wellness company, with business development, leveraging networking efforts, team motivation, CSR, corporate partnership, etc.
CONTACT ME
WORK WITH ME