CONSULTING FOR YOUR BUSINESS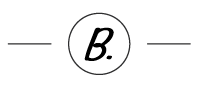 ---
A la carte Business Development
Are you looking to have someone help you with new ideas, effective plans and help make the final okay regarding your strategic development and marketing?
Partner with me on a mission-specific basis or on a retainer basis as your virtual BD Director!
LEARN MORE
You want this year to be the most impactful for you and your business ? Are you looking to take action immediately and get results faster?
A high-impact day with me and my (b)right brain is just what you need! This VIP Day will make you move forward with your projects with more engagement.
LEARN MORE