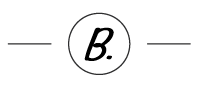 After years of participating as a guest speaker, panelist or moderator in workshops, seminars, conferences, congresses and panel discussions, I have seen it all: the good, the bad and the puts-you-straight-to-sleep. My professional experience has helped me develop a sense for well-structured debates and nuanced argumentation.
"As a speaker, I'm quick on my feet, process information swiftly and do not shy away from an awkward situation.
As a moderator, I take responsibility for the oomph in the room, the conversational flow on stage and the full integration of the audience."
I welcome the challenge of synthesizing contrasting opinions and making sure that all points of view get a chance to be heard. In order for the talks to develop organically into a sprightly exchange, I make sure that the speakers and panelists get to show their personalities while staying on topic and that the audience feels fully engaged.
I'm a certified moderator with accreditation from Masters in Moderation, a unique and highly reputable moderation training course ran by Dutch experts versed in the art of stirring a conference or panel: firm but not abrupt (Credentials available upon request).
My topics:
The future of law (independent law firms, legal techs, client relationship)
Entrepreneurship (inc. social entrepreneurs, continuous education, …)
Clean energies/renewables
Lifestyle
Free trade (inc. Brexit, WTO, OECD)
Wellness (health, food, cosmetics) and Slow life (inc. meditation, fengshui)
Environment (inc. green cities)
Personal development (inc. Change in careers, coaching, work-life balance)
Leadership
International relocations
Women leaders & founders
Multiculturalism
Childhood and education
Traveling
Cooking & Cuisine (inc. new trends on the restaurants scenes etc)