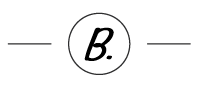 Welcome to the BBCo Academy!
I designed this space with people just like you in mind to provide you with extra knowledge that is easily actionable, add extra dimension to your business and bring more overall intention to your everyday.
This is where you can access curated mini-courses, trainings, pdf guides and resources all designed to answer questions I have received over the years.
Grab what you need and keep coming back because new things are added all the time!
Not sure where to start? Contact Team BBCo Academy and we will help!
CONTACT US