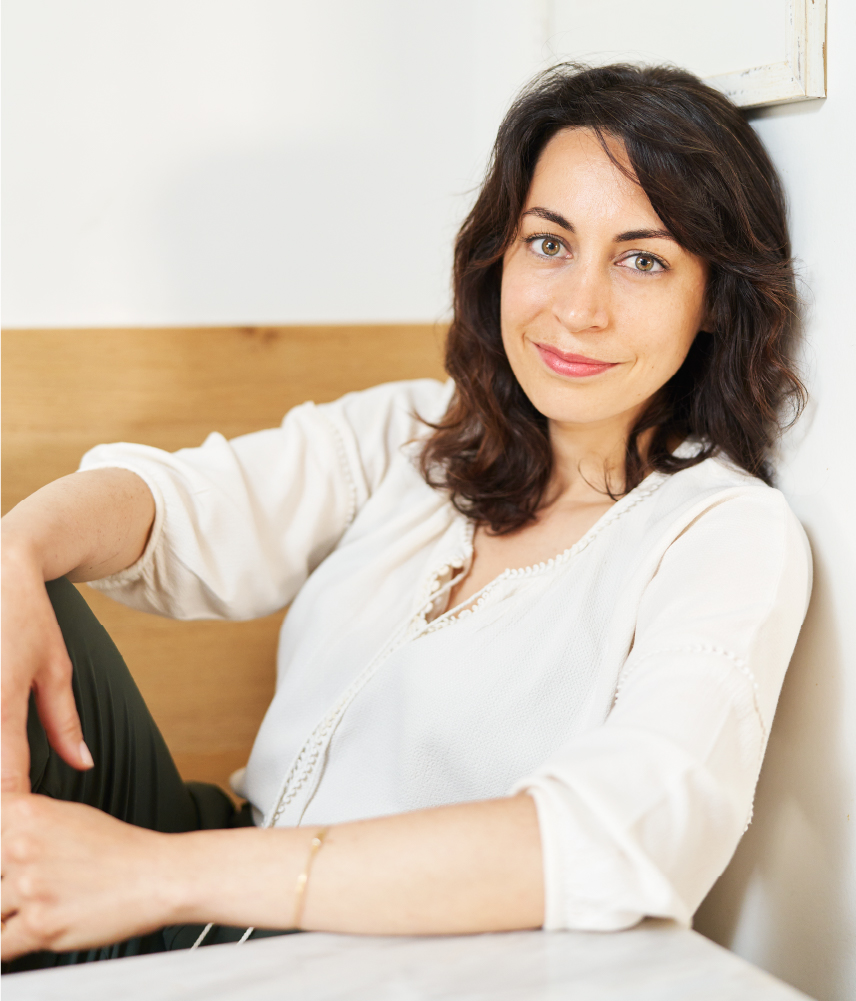 Hi, I'm Alexia.
I'm 41 years old, I live between Paris, the Haut Jura and South Africa with my husband and our two young children.
A temperamental perfectionist, an ISFP-t adventurer (for my MBTI test fan readers), a passionate traveler, a rebel who loves her cup of fresh mint tea, a perpetual dreamer, an unscrupulous gourmand, a passionate urban planner and an incurable curious person.
But above all, I am a coach, business developer, entrepreneur, author, speaker and inner voice facilitator (si, si!). And an ex-lawyer.
I advise, coach, write and speak on topics related to entrepreneurial transition, personal and business development, and business expansion in #SmartCollaboration and #Flow mode.
I strive to make lasting contributions to you, to lay the foundations for healthy and vibrant ecosystems, to equip you with beneficial development tools. In short, to facilitate the realization of expansion opportunities that are right for you.
"I strongly believe in growing our businesses while living our best lives. And I have made it my mission to guide others in the same direction.  The reason why I gave myself this mission?"
"
My story
Prior to founding B.right Brains Co, I practiced law for over 10 years (international trade and project finance) at leading international law firms in Canada, the United Kingdom, South Africa and the United Arab Emirates. Ten formative and exciting but grueling years, far removed from my deepest aspirations! I talk about it in more detail in my book De l'Art d'Envoyer Valser Sa Carrière (Hachette, 2020), for those of you who speak French.
Want to know more? Got 2 minutes?
After many years working as a lawyer, I turned to business development and strategy for international law firms, focusing on organic revenue growth, strategic partnerships, client portfolio management, and cross-functional and cross-cultural leadership. These years allowed me to become a recognised expert in business development and to gain the legitimacy I thrived for – something that felt very important to me at the time!
At the same time, my interest in niche and innovative wellness brands in food and cosmetics led me to co-found Botanica Natural Products and Timola,, two social enterprises that market certified organic plant extracts for cosmetic and food use in a respectful and sustainable way. That's how I discovered the power of the entrepreneurial spirit and decided to broaden my scope of action.
But my journey has not been as smooth as these three paragraphs might lead one to imagine… I did not make a miraculous over-night leap towards flourishing entrepreneurship.
Before the hours devoted to accompanying my entrepreneurial clients. Before the online academy to serve my clients around the world. Before the La Valse LIVE show on French TV channel BRUT. Before the satisfying success of my book… I was overworked, overwhelmed, overloaded. And uninformed. Waiting for accomplishments. And recognition. Eager for expansion. Stuck in fear of failure. Impatient to create my own structure that would respond to my "zone of genius", in tune with my energy and allow me to have the freedom and lifestyle I desired.
I didn't know what I wanted. I didn't have a clear plan. I avoided going too far in my thought process. But I felt I needed to break out of the fancy title race and the rigid hierarchical structure.
Until one cold, grey morning in 2008 when my London office strongly encouraged me to take the plunge… thanking me for my good and loyal service! Inevitably, the international financial crisis and the (many!) honeypots devoured in my London basement did not mean the end of my career, and I found myself a few months later in an excellent law firm … in Abu Dhabi!
… less than 2 years later, I had become their business developer. And I was also busy co-founding Botanica Natural Products, a food company in South Africa, growing certified organic plants for cosmetics and food supplements.
… 5 years later, I was back in my hometown of Paris with my South African husband, supporting international law firms in their business expansion. At the time I was also looking to start a high-end super-food business. Until I realized, after a fair amount of financial modelling and stress testing, that I wasn't building the right business for me.
I was meant to help other entrepreneurs develop their concept, hone into the right mindset and grow in a way they never thought possible!
… 10 years later and I launched Bright Brains to support coaches, lawyers, educators and other entrepreneurs looking to create and grow their own 100% impact, positive business and help them thrive – without burnout!
To paraphrase my online business guru (and teacher!), Amy Porterfield, "I only teach my clients what I have personally tested and integrated to create a successful business that doesn't rely on 80-hour work weeks or a team of 40 people just to stay afloat". It took me a few years and a few interesting detours… but I got there.
If you like what you read and want to start using my online resources, check out one of my free guides or masterclasses.
Trainings & Certifications
To quench my thirst for more knowledge and skills, I train with the best.
Moderation of conferences
---
Moderation of conferences with Masters in Moderation
Solopreneurship
---
Sucessful solopreneurship with the exhilarating  Marie Forleo
intuitive work
---
Controlled remote viewing protocol (intuitive work) (yes, just like the CIA!) with the iRis Institute
Inner Voice Facilitator
---
Dialogue with your intuition, your subconscious, trained directly by Jess Lively
My expertise
A transversal expertise and a wide range of contacts at your disposal
.
Do you need to be guided in the serene and structured development of your company? Business development strategies, optimisation of your community and network, boosting your motivation (and your teams'!), structuring favorable partnerships?
Do you want to bring your entrepreneurial dream to life or take it back in hand – discover my coaching programs.